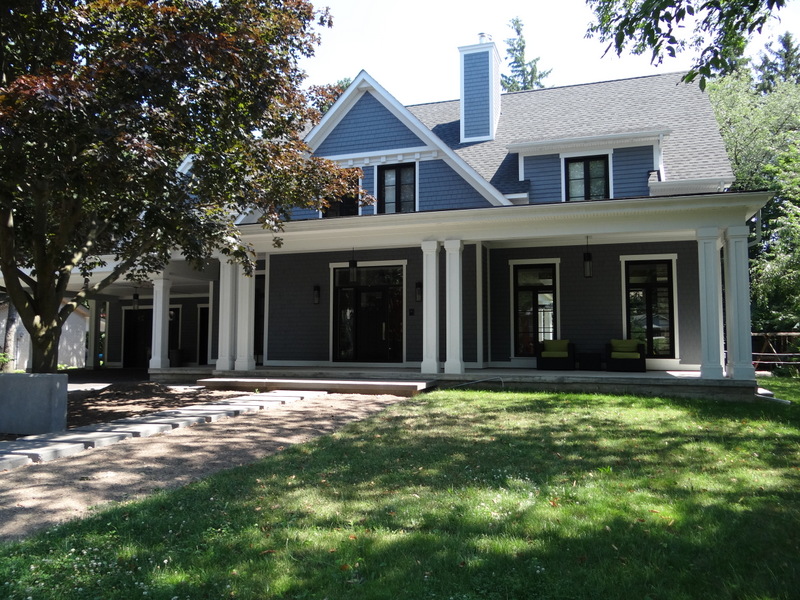 She likes old houses and he wanted a very modern feel.
They compromised and agreed on a house design that from the outside seemslike it has been there for a century. But when you are inside it feels like the house has been gutted to create a modern loft feel with 11' ceilings and very simple trim. The windows had to be the transition element– we selected black fiberglass windows and doors that appear like wrought iron. From the inside the windows have a loft feel but from the outside it fits with the old house look.
Green Design Parameters
 
· Insulated Concrete Forms (ICF) cladded in Factory Finished Wood Siding.
· Hydronic Infloor Heat operated by a high efficiency boiler.
· Fiberglass Windows and Doors
· Passive Solar Design
Interior and Exterior Design Elements
The stairs are floating maple treads with no risers to create a modern feel. We recycled the kitchen the couple had installed in their original home that was demolished.
The house is located in a neighbourhood with mainly bungalows. We did not want the roofline to tower above the existing homes so the bedrooms were built into an attic with dormer windows to give the house the appearance of a single storey home.
The couple has 2 young children and for them we created a "secret room" in the attic they can access with a ladder. The area above the garage is unfinished but could be converted into an in-law suite. The house is expected to grow and change as family evolves.
Building Permit Focus
To keep the roofline as low as possible attic space had to be maximized. A steel ridge beam was engineered and supported by mid-point steel posts. The floors joist system used steel joists in order to maximize that open area on the main floor.
The clients demolished a bungalow close the lake Ontario in Oakville and constructed a new modern home on the same footprint. The many mature deciduous trees meant that south and west facing trees could be shaded in summer but allow for passive solar heating in winter.
Green Design Parameters
· 2x6 Construction with R22 batt and four inches of exterior foam below stucco to prevent cold transfer through the studs
· Centre "Open to Above" spine used to increase heating and cooling efficiency: There are two Mechanical Rooms. One room is in the basement and one room at the roof level. Each Mechanical Room has a small natural gas furnace and the rooftop Mechanical Room contains a micro air conditioner.
· In the summer the cold air is expected to drop down through the house from the rooftop system.
· In winter the basement furnace will be activated more frequently because hot air rises and the 2nd floor bedrooms will be heated via convection airflow.
· Hot air is captured at the highest ceiling level in the house that is the roof lite extending above the 2nd floor level.
· Operating skylights at the highest ceiling level allows for natural convection airflow in the summer
· The east side of the house faces Lake Ontario and East / West windows provide natural breezes in summer.
· Deciduous trees on the west side provides shading in summer
When this client drew for me on a paper napkin what he wanted in a weekend home there was not one straight line… They live in a mid-century modern home in Toronto and wanted a country home on their organic farm that would be…. "organic". This house was designed in model form – it just was not possible to draw in two dimensions and 3-dimensional computer software would maybe not have allowed for the same level of outside the box thinking as balsawood and cardboard.
Green Design Parameters
· Triple glazed Loewen fir and aluminum windows to the north
· Double glazed windows on the remainder of the house
· A Legalett insulated structural steel slab with integrated heat
· Steel posts and beams
· Insulated Concrete Form walls
· A steel roof and a sloped green roof on the south
· A high efficiency "walk-in" stone fireplace.
The house is an "almost off the grid" Prince Edward County Farmhouse with no basement due to a high water table and all the services in the attic.
Green Design Parameters
 
· Legalett Insulated Slab on Grade structural foundations with integral infloor heat.
· Insulated Concrete Form (ICF) Wall Construction to maximise insulation values
· Passive Solar Design: South Facing and situated near an existing deciduous tree to provide shading in summer. Less than 4% glazing on north side.
· Gables facing east / west to allow for natural cooling in summer by means of breezes from Lake Ontario. Window and door openings on east / west axis.
· Finished Attic contains HVAC Equipment.
· Convection Airflow from main floor and 2nd floor centre though centre "Open to Above" area up to attic window. Upward convention intersects with east / west airflow. No Air Conditioning.
· Steel Roof, rain water harvesting
· Solar Panels – ground mounted